Air Explorer 5.0.0, nueva versión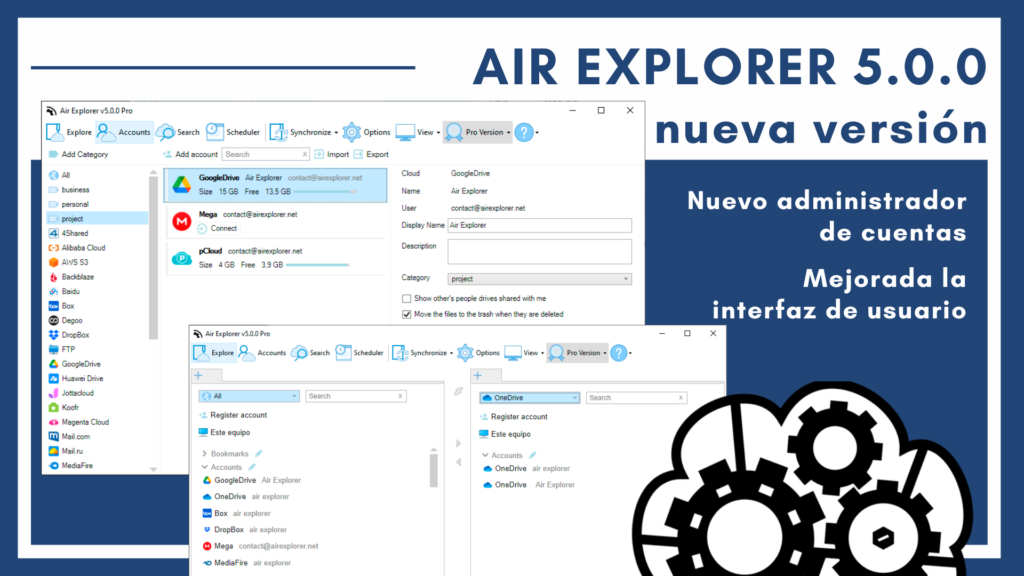 Lista de cambios:
-Nuevo administrador de cuentas.
-Las cuentas se pueden agrupar en categorías.
-Nueva pestaña para abrir una cuenta
-Mejorada la interfaz de usuario.
-Arreglado añadir cuentas de Huawei Drive.
-Mejorada la velocidad de subida de Degoo.
-Arreglado que no era posible subir archivos de más de 2GB a HiDrive.
-Ahora es posible descargar Dropbox Papel y Google Documents en Dropbox.
-Eliminado Arvancloud.
-Arreglado que la visualización de velocidad era incorrecta para los reintentos de subida de fragmentos de Box.
-Arreglado que debido al nuevo tiempo con .NET 4.5 los mensajes de error eran más genéricos.
-Actualizada la traducción al uncraniano (thanks to rad).
-Actualizada la traducción al italiano (Thanks to tfrtint).