Air Explorer 4.0.0, new version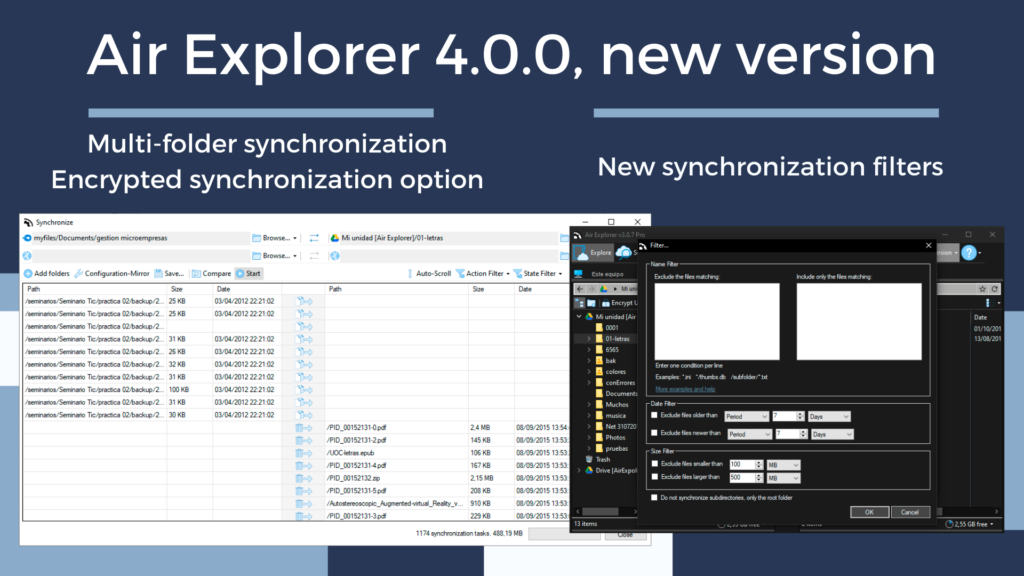 List of changes:

-Multi-folder synchronization. It is possible to add several pair of folders in one synchronization. If different clouds are used the synchronization tasks and comparision are executed in paralled.
-Added encrypted synchronization option
-New synchronization filters: size filter, data filter, name filter include and exclude, root folder only).
-Added Opendrive cloud.
-Fixed some Mega accounts could not login.
-Fixed mail.ru was not sending SMS for 2 factor authentication.
-Added bandwidth scheduler option for each scheduled task
-Added a new filter in the synchronization window to view or exclu.de the filtered items.
-Now in the sync window it will show the estimated time to finish the synchronization. -This is a rough estimation.
-Improved synchronization performace.
-New option to split the log files by size.
-Better sorting of files with numbers in the name.
-Added properties menu to the search list.
-Show more log information when OneDrive folder can not load.
-Webdav compatibility improved.
-Do not run Air Explorer with elevated privileges after installation.
-Updated Korean language (thanks to Kyung-Sin).
-Updated Japanese translation (Thanks to Tilt).