Air Explorer 4.1.1, new version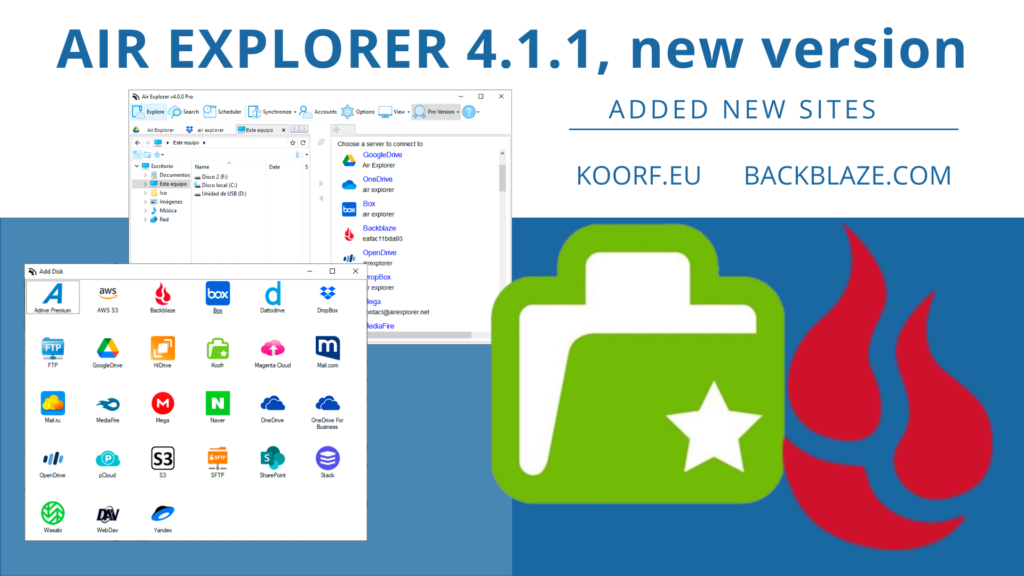 List of changes:
-Added Backblaze cloud support.
-Added Koofr cloud support.
-Fixed issue renaming folder in S3.
-Fixed issue transferring files larger than 4.5GB from one cloud to S3.
-Fixed issue downloading very large files from S3.
-Reduced memory usage downloading files from S3.
-Improved uploading files to Dropbox.
-Faster synchronization with Box.
-Fixed compatibility issue with Synology SFTP.
-Removed 2GB file limit for HiDrive.
-Fixed dark mode title bar color on Windows 20H1.
-Added downloads folder shortcut to the local folders tree.
-Context menu to open account in tab now is shown faster.
-New feature to stop scheduled tasks.
-Fixed error copying files or folders in some webdav servers.
-Fixed issue when max log size was enabled in command line.
-Improved stability.
-Fixed error transferring Google Documents to OneDrive for Business.
-Fixed, some 0 bytes files could fail on upload to Box.
-Reduced CPU usage refreshing local folders.
-Fixed, deleting local items in a synchronizacion caused issues with the application focus.
-Updated Korean translation (Thanks to JaeHyung).
-Updated Italian translation (Thanks to tfr).
-Updated Greek translation (thanks to BasiKos).
-Updated Russian translation (thanks to Timofey).
-Updated Polish translation (Thanks to Janusz).
-Updated Brazilian Portuguese translation (Thanks to Igor).
-Updated Chinese Traditional translation (Thanks to Hulen).