Air Explorer 4.3.0, new version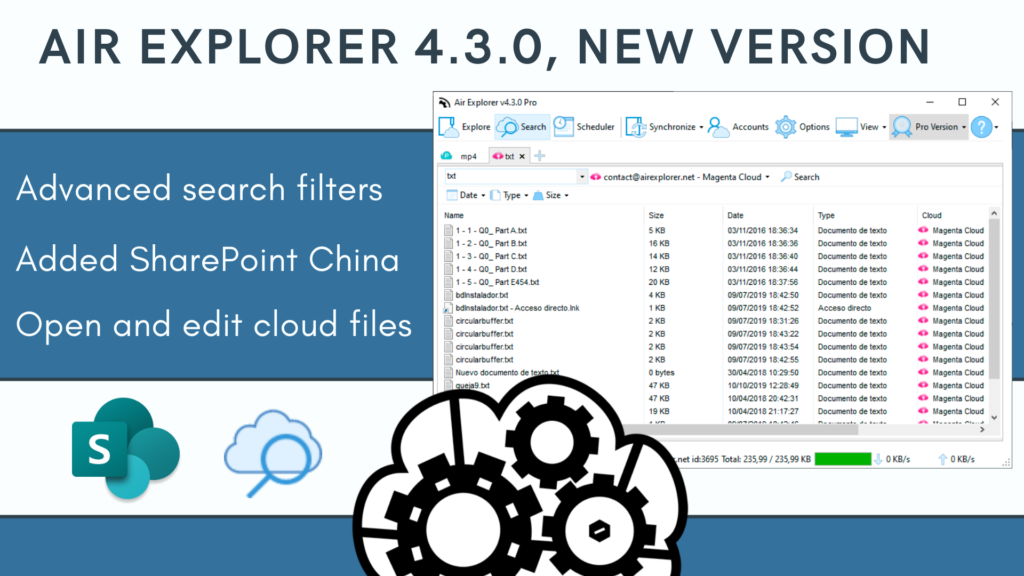 List of changes:
-Advanced search filters (size, file type and date).
-Added SharePoint China.
-Now it is possible to open and edit cloud files. The files will be automatically uploaded to the cloud when they are modified.
-Enter local network paths in the address bar now works better.
-Now it is possible to select multiple files for sharing.
-OneDrive for Business fixed move files and folders between drives in the same account.
-OneDrive for Business fixed copy files between drives in the same account.
-New option to view other users drives in OneDrive for Business.
-Fixed error moving a folder from a shared folder in Box to a private folder.
-Included operation result on the notification email subject.
-Fixed, installer was blurry on HDPI screens.
-Synchronization windows will also be minimized to the tray when this option is enabled.
-Weekly scheduler was not displayed correcly in some screens.
-Fixed encrypted synchronization options was not loaded correctly.
-Bulk rename without adding new symbols, just deleting a file name part.
-Increased OpenDrive upload timeout.
-Improved stability.
-Updated Italian translation (Thanks to tfr).
-Updated Chinese Traditional translation (Thanks to Hulen).
-Updated Simplified Chinese translation (Thanks to Cooper).
-Updated Korean translation (Thanks to godworlds).
-Updated Russian translation (thanks to Timofey).