Air Explorer 4.5.0, new version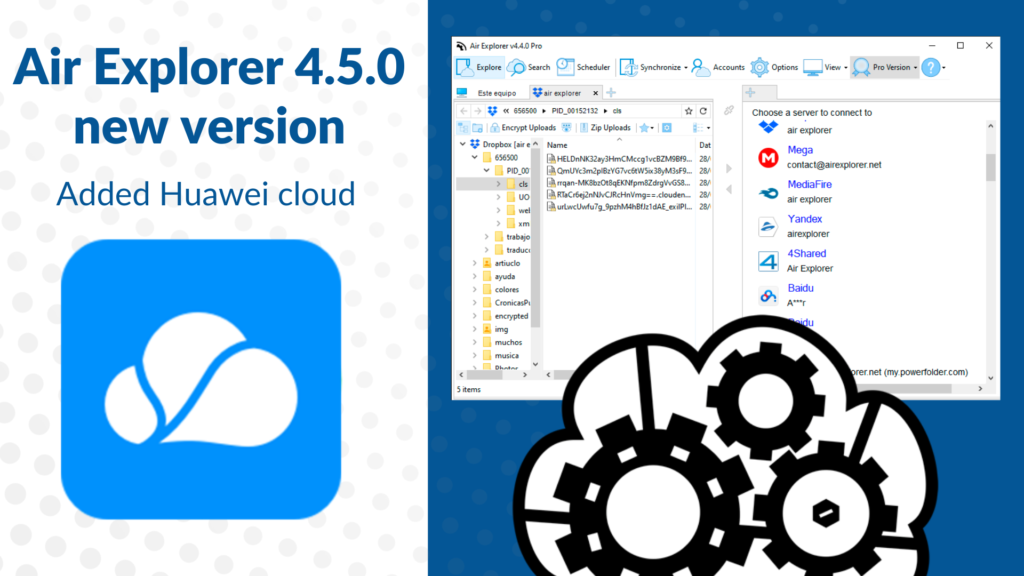 List of changes:
-Added Huawei cloud.
-Fixed slow connection to Google Drive for some accounts.
-Added "Open with" menu to select the application to open the files in the clouds.
-Show the current path on tabs header tooltips.
-Fixed empty folders were not deleted when they were moved to another cloud.
-Improved Google Documents synchronization with another cloud or to local drive.
-Fixed show last log file in scheduled tasks.
-Flush logs on command line log writes.
-Added option /s to "dir" command line to list the subdirectories.
-Raise error when uploading files to Box starting with a blank space.
-Added additional wasabi endpoints.
-Updated some Google Drive mime types.
-Command line password is now optional.
-Fixed issue with some unicode characters in Dropbox synchronizations.
-Updated Chinese Traditional translation (Thanks to Wang).
-Updated Japanese translation (Thanks to Tilt).
-Updated Simplified Chinese translation (Thanks to Cooper).
-Updated Italian translation (Thanks to tfr).
-Updated Russian translation (thanks to Timofey).