Air Explorer 4.6.1, new version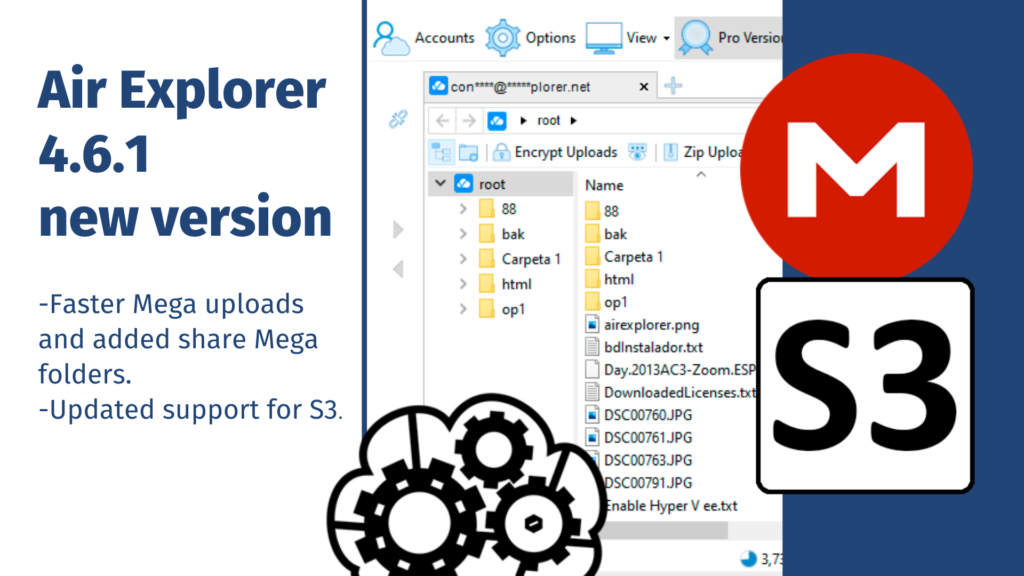 List of changes:
-Faster Mega uploads.
-Share Mega folders.
-Show Mega thumbnails.
-Play online videos on Mega.
-Fixed HiDrive support.
-Improved sftp upload and download speeds.
-Saving edited encrypted files keeps the encryption.
-Fixed compatibility issue with some S3 providers uploading files containing spaces in the name.
-Fixed, internal Google Drive files copied could duplicate the files.
-New option for Google Drive accounts to download files flagged as spam, abusive or malware. It is disabled by default.
-Fixed uploading large files to 4Shared.
-Added support for S3 path style addresses.
-Fixed issue connecting to some S3 servers.
-Fixed error comparing files with invalid UTF characters.
-Fixed issue uploading Google Documents to pCloud.
-Scroll bars in synchronization window for more than 6 folders.
-Play online videos on AWS S3 and S3 compatible servers.
-Play online videos on Naver.
-Play online videos on SFTP.
-Fixed some characters were not handled correctly on some webdav servers.
-Command line logs had space instaed of TAB after the date.
-Updated Japanese translation (Thanks to Tilt).