Air Explorer 4.9.1, new version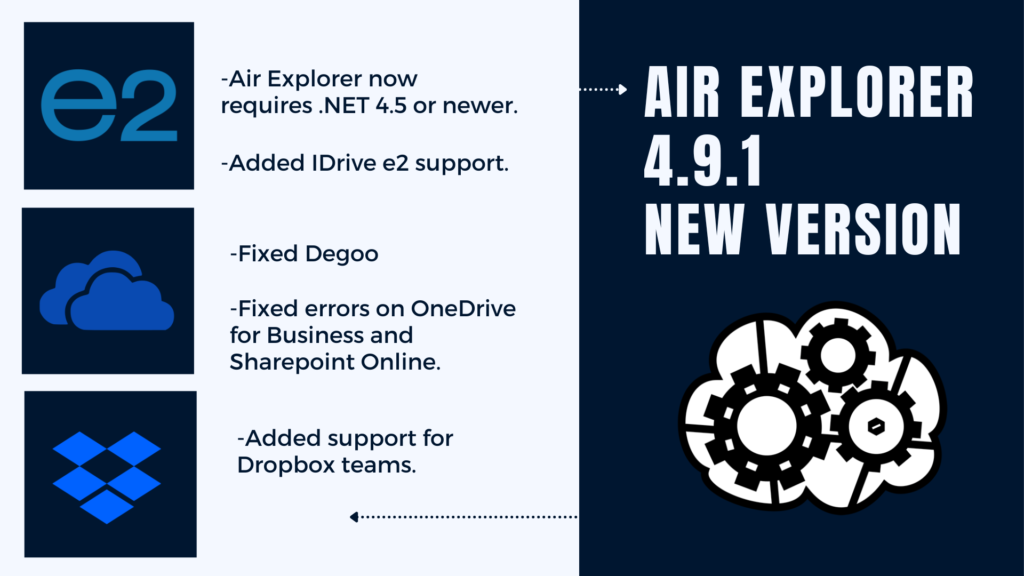 List of changes:
-Air Explorer now requires .NET 4.5 or newer.
-Added support for Dropbox teams.
-Avoid 429 errors on OneDrive for Business and Sharepoint.
-In OneDrive for Business and Sharepoint now the 429 and 50x errors are handled better.
-Removed Internet Explorer engine dependency to show integrated login pages, now Air Explorer uses Edge engine. To use the newer Edge engine the WebView2 runtime needs to be installed on the computer.
-Fixed, sometimes the Google Documents were not copied correctly to another cloud.
-Added IDrive e2 support.
-Fixed Degoo accounts could not be registered on some computers.
-Added option in Sharepoint to specify the sites that Air Explorer will display instead of showing all the sites.
-Do not copy again Google Documents to another cloud in synchronization even if the file size is different.
-Reduced the number of requests needed to read the folders in OneDrive for Business and Sharepoint.
-Fixed Degoo downloads.
-Fixed issue with 50x errors on OneDrive for Business and Sharepoint Online.
-Fixed issue with sync filter when synchronizing a drive root folder.
-Updated wasabi endpoints.
-Fixed Mega login issue with some passwords.
-Fixed error showing onedrive for business parameters window.
-It is possible to specify Path address style for Wasabi accounts (it seems that some accounts require it).
-Fixed error handling Windows files with invalid dates.
-Sharepoint search has been improved and will give results from all the Sharepoint sites-
-In command line, now it is possible to use DATETIMESECONDS macro to include the seconds in the log file name.
-Fix comparison abort when a file is locked and hash is calculated.
-Fixed error comparing file names in Windows 11.
-It is possible to configure in Sharepoint a rate limit.
-Updated Italian translation (Thanks to tfr).