Air Explorer 4.8.0, new version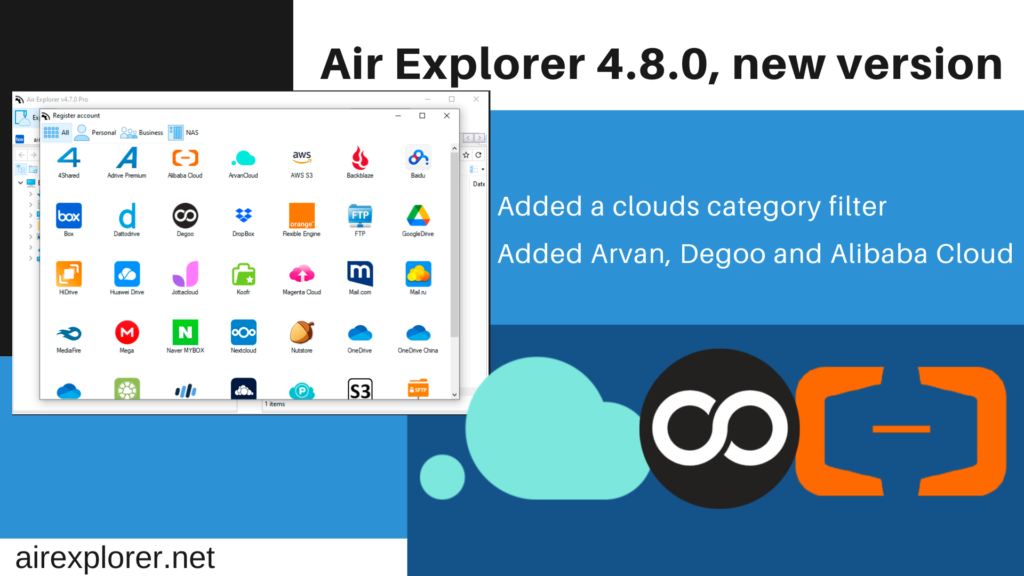 List of changes:
-Added Degoo cloud support.
-Added Alibaba Cloud support.
-Added ArvanCloud support.
-Fixed, Sharepoint did not show all the sites.
-Fixed issue transferring Google Document files to another clouds.
-Show multiple file and folder items properties on one window.
-Faster synchronizations for Box.
-Added a clouds category filter to find easier a cloud provider when adding a new account.
-Show error message on duplicate files after UTF8 normalization on synchronizations.
-When a folder can not be readed in a synchronization no actions will be performed in the target cloud for the same folder.
-Startsync and runsavedsync commmands will create the sync report even if one of the folders does not exists.
-Fixed Box edit parameters button error.
-Updated Simplified Chinese translation (Thanks to Cooper).
-Updated Polish translation (Thanks to Janusz).
-Updated Russian translation (thanks to Timofey).
-Improved stability.