Air Explorer 5.1.3, new version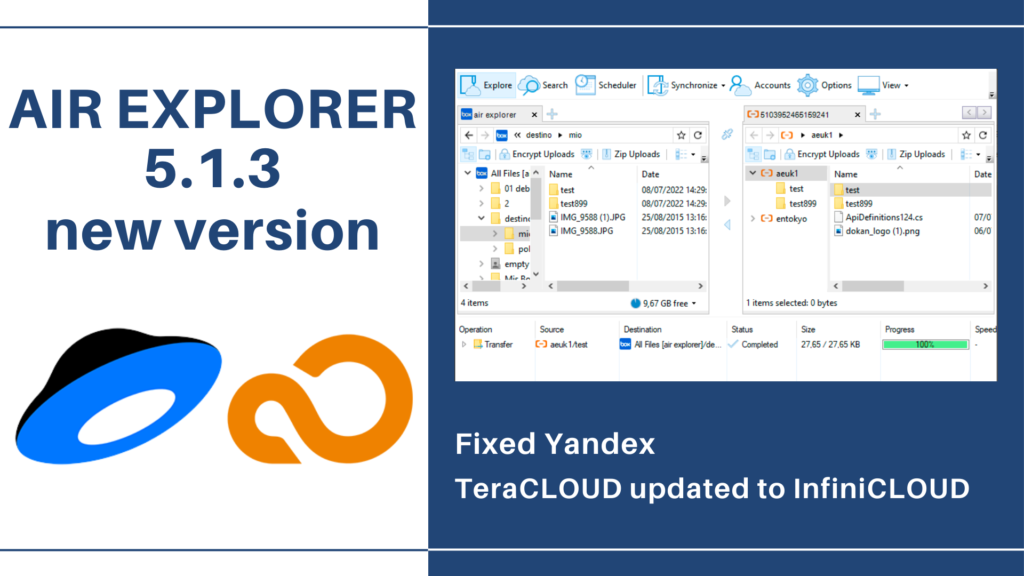 List if changes:
-Fixed Yandex.
-TeraCLOUD updated to InfiniCLOUD.
-Fixed it was not possible to download some recently uploaded files to Google Drive.
-Added option to specify the FTP timeout.
-Fixed parent folders already synchronized were incorrectly marked for synchronization when changing manually a subitem synchronization direction.
-Fixed accounts file could get corrupted in some rare cases.
-Fixed wrong labels for "open on left" and "open on right" buttons.
-Fixed issue reading Box folders lists that could cause duplicated items.
-Fixed error when non integer values are entered in the bandwidth scheduler.
-Accounts file is saved when the "Display name" is updated.
-Updated Chinese Traditional translation (Thanks to Wang).
-Updated Hungarian translation (Thanks to John Fowler).
-Updated Simplified Chinese translation (Thanks to Cooper).