Air Explorer 1.15.0., new version with Bookmarks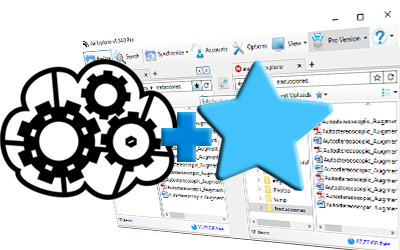 List of changes:
-Add bookmarking feature. To add a bookmark to folder click in the star icon in the addressbar. To open a bookmark select it in the menu when you open a new tab. Right clicking on the "+" icon to open a new tab will show only the bookmarks list.
-Fixed upload encrypted files to Google Drive (Cipherfilestream modificado).
-Quota information and user name was not reported correctly in some Box accounts.
-Added password verification box to encrypt uploads.
-Buttons to reorder saved synchronizations.
-Fixed, in the addressbar the path for the selected folder does not always refresh correctly.
-Box search now search only in file names instead of file content.
-In some systems the jpg images uploaded to Google Drive were not detected as images.
-Updated Japanese translation (thanks to Tilt).
-Air Explorer can now run in .NET 3.5 or 4.0 or newer.
-Updated Polish translation (thanks to Janusz).
-Updated Korean translation (thanks to JaeHyung).
-Updated Russian translation (thanks to Timofey).