Air Explorer 2.6.0, new version
List of changes: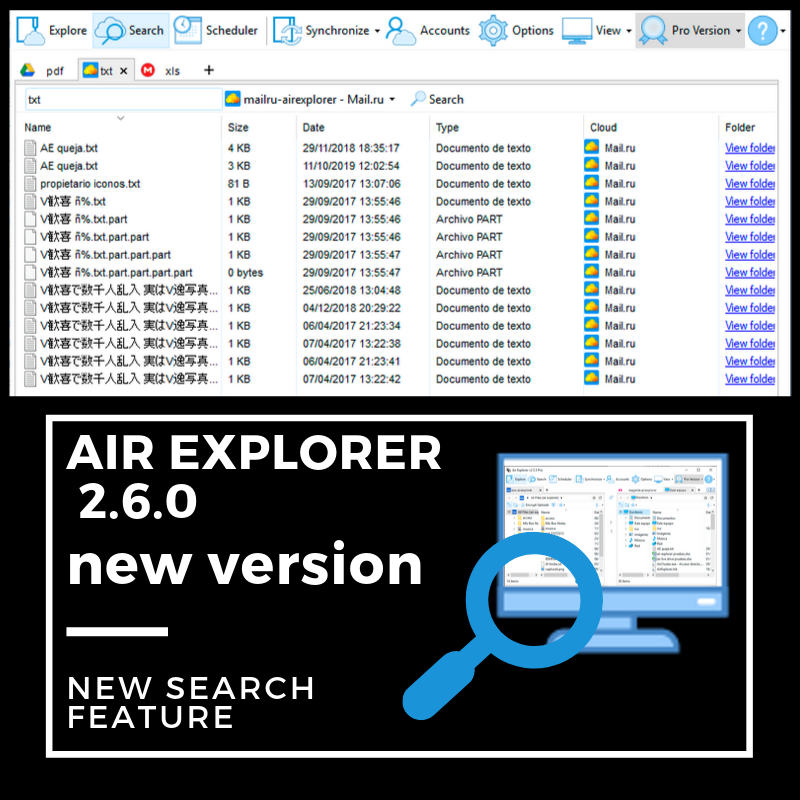 -Amazon Cloud Drive support removed, check here for more information: https://www.airexplorer.net/en/blog/amazon-cloud-drive-support-discontinued/
-Now it is possible to keep multiple searches in tabs.
-Added feature to search inside a folder and its subfolders.
-Added minimize to the tray area option.
-Fixed compatibility issue with some Webdav servers (Synology NAS).
-Keep the modification date when moving files in Google Drive.
-Keep the modification date when coping files in Google Drive.
-Now it is possible to specify the character encoding for FTP connections.
-Fixed, Box accounts with a character "/" in the user name did not work well.
-Fixed refresh token problem in Box with scheduled tasks in certain conditions.
-Don't show folder size for clouds that doesn't send the folder size in the search results.
-Fixed error searching in Google Drive.
-Fixed, scheduled tasks are killed if running during more than 72 hours. For existing tasks, edit the task, and click on the OK button to remove the limit.
-Some scheduled tasks could hang.
-Fixed issue creating folders with # in the name.
-Fixed uploading files to Google Drive with wrong mime type values in the registry.
-Improved stability.
-Updated Lithuanian language (thanks to Hobis).