Air Explorer for Android, new version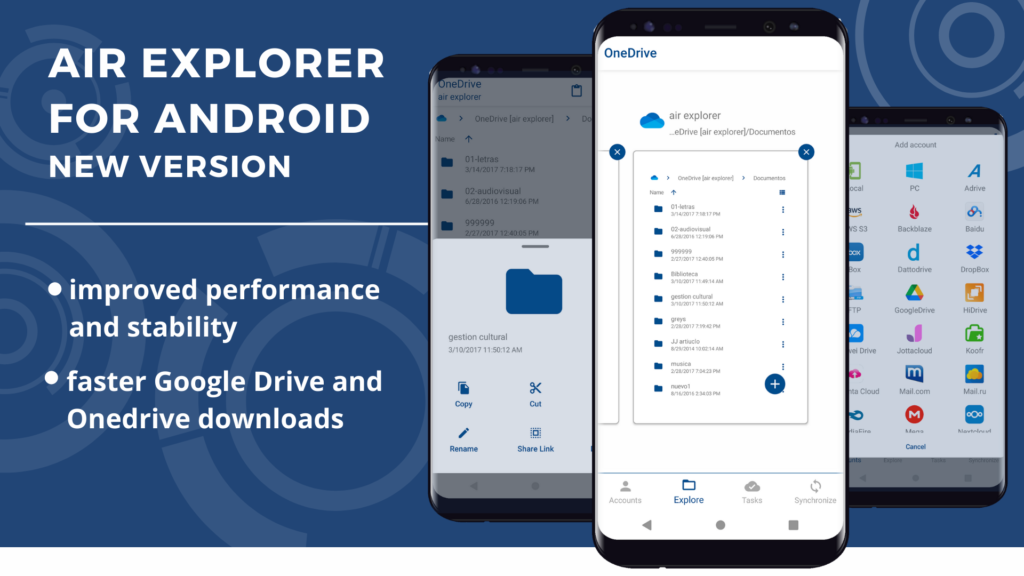 Copy and sync documents, photos, videos and other files to the cloud and access them from your Android device no matter where you are. Thanks to Air Explorer for Android you can connect to all your cloud accounts from your smartphone and manage your files. The new version of Air Explorer for Android improves stability and makes downloads from Google Drive and Onedrive faster.
The advanced features of Air Explorer for Android allow you to share documents and sync between clouds, between your device and the cloud and even between your PC and your device. With just one app you have all your storage spaces connected, so it is easier to make backups or free up space on your device.
Air Explorer for Android is compatible with a wide range of cloud service providers and file protocols such as Box, Google Drive, Dropbox, OneDrive, Mega, S3, Yandex, WebDav, etc.
You can check more information here:
–Upload and sync your smartphone with any cloud
-How to upload your files to OneDrive from your mobile
-Transfer files between clouds with Air Explorer for Android